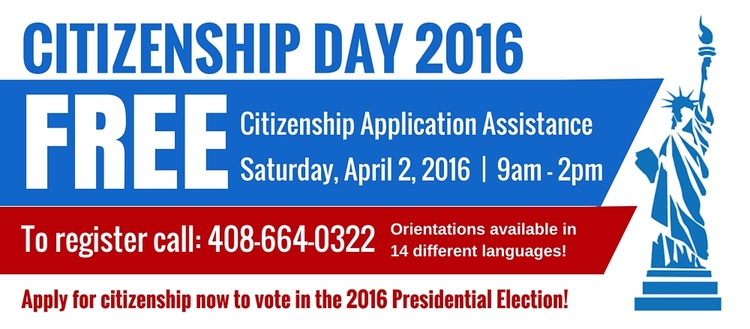 The Santa Clara County Citizenship Collaborative is hosting Citizenship Day 2016 to provide free citizenship application assistance to eligible lawful permanent residents. Based on the current estimated application processing time from the United States Citizenship and Immigration Services (USCIS), applicants who apply by April 2016, should be able to vote in the November Presidential Election.
We are recruiting community members, attorneys, paralegals, translators, law students, high school students, and college students to volunteer on Citizenship Day, Saturday, April 2, 2016, and a follow up workshop on Saturday, April 16, 2016.
Both events will be at San Jose City College, General Education Building, 2100 Moorpark Avenue, San Jose, CA 95128. We will be assisting participants from 8:30 AM to 5 PM. 
We need volunteers to assist with registration, logistics, form filling, translation (mainly Spanish and Vietnamese), and attorney review.
Shift 1, we request that volunteers who will be assisting with registration and logistics arrive by 8:30 AM; and for volunteers who will be assisting with form filling and attorney review arrive by 9:30 AM.
Shift 2, we request all volunteers arrive by 12:30 PM.
If you are interested in volunteering, please do the following:
Sign up by registering here; and
Attend one of three volunteer trainings at 6 PM on either March 16, 23, or 30 at the ALA office, 991 W. Hedding Street, Suite 202, San Jose, CA 95126. However, if you previously attended citizenship training or you are an immigration attorney, you do not need to attend a volunteer training session.
Thank you and we hope to see you on April 2 and/or April 16!
For any questions, please contact Judy Hinh Wong at ALAVolunteerCoordinator@gmail.com.